INTRODUCTION
 It's really nice to bring Valentines love into your nannying day with your charges. Why not make these really yummy red velvet cupcakes. A lovely surprise for mummy and daddy when they come home from a hard day at work too. Yum!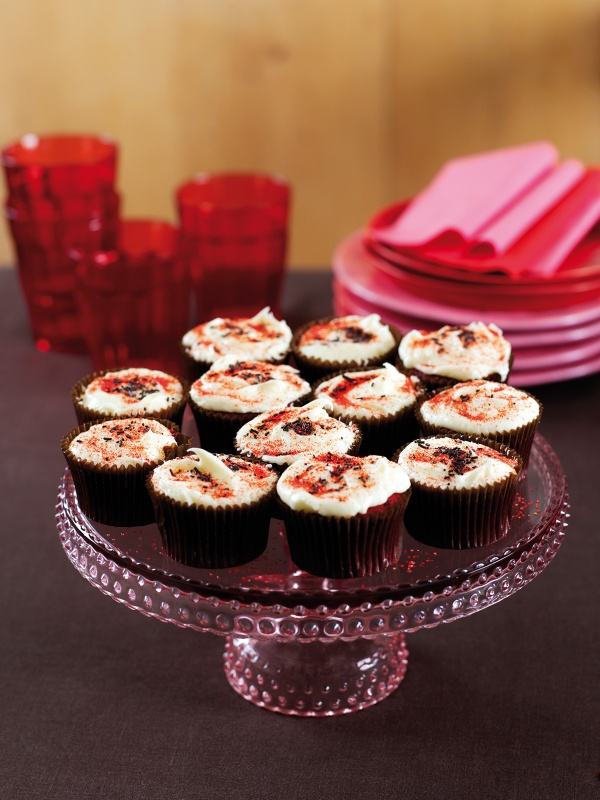 INGREDIENTS
Makes: 24
FOR THE CUPCAKES
250 grams plain flour
2 tablespoons cocoa powder (sifted)
2 teaspoons baking powder
½ teaspoon bicarbonate of soda
100 grams soft unsalted butter
200 grams caster sugar
1 heaped tablespoon red paste food colouring
2 teaspoons vanilla extract
2 large eggs
175 millilitres buttermilk
1 teaspoon cider vinegar
FOR THE BUTTERY CREAM-CHEESE FROSTING
500 grams icing sugar
125 grams cream cheese
125 grams soft unsalted butter
1 teaspoon cider vinegar (or lemon juice)
chocolate sprinkles for decoration
red sugar for decoration
METHOD
FOR THE CUPCAKES
Preheat the oven to 170°C/150°C Fan/gas mark 3/325°F, and line 2 muffin tins with paper cases.
Combine the flour, cocoa, baking powder and bicarbonate of soda in a bowl.
In another bowl, cream the butter and sugar, beating well, and when you have a soft, pale mixture beat in the food colouring – yes all of it – and the vanilla.
Into this vividly coloured mixture, still beating, add 1 spoonful of the dried ingredients, then 1 egg, followed by some more dried ingredients, then the other egg, followed by the rest of the dried ingredients.
Finally beat in the buttermilk and the vinegar and divide this extraordinary batter between the 24 cases. Bake in the oven for about 20 minutes by which time the redcurrant-sorbet-coloured batter will have morphed into a more sombre, but still juicily tinted, sponge – more maroon acrylic than red velvet, to be honest.
Leave them to cool on a wire rack and do not ice with the frosting till absolutely cold.
FOR THE BUTTERY CREAM-CHEESE FROSTING
Put the icing sugar into a processor and whizz to remove lumps.
Add the cream cheese and butter and process to mix. Pour in the cider vinegar (or lemon juice) and process again to make a smooth icing.
Ice each cupcake, using a teaspoon or small spatula.
Decorate with chocolate sprinkles